Buy Blueberry Cruffin Online
Blueberry Cruffin Strain  is an indica dominant hybrid strain created through crossing the delicious Blue Cookies X DJ Short Blueberry X Platinum strains. Known for its heady high, gorgeous appearance and almost addictive flavor, Blueberry Cruffin is the perfect well-rounded bud for any indica lover. Blueberry Cruffin has a sweet and fruity blueberry taste with hints of nutty cookie and sweet muffins.
Too, The aroma is just as delicious, although with a touch of spicy herbs and earth to it. However,. The Blueberry Cruffin high is just as delightful, with hazy heady overtones that have you feeling kicked back for hours on end. You'll feel a subtle lift at the onset of the high that quickly builds into full-fledged hazy euphoria.
This state is 100% unfocused and slightly sedative which can have you dozing off at times if you're not careful. With these effects and its super high 22-26% average THC level, Blueberry Cruffin is often chosen to treat insomnia, chronic stress, headaches or migraines, chronic stress and chronic fatigue. This bud has fluffy dense grape-shaped dark forest green nugs with lots of thin light orange hairs, bright blue undertones and tiny white crystal trichomes.
blueberry cruffin strain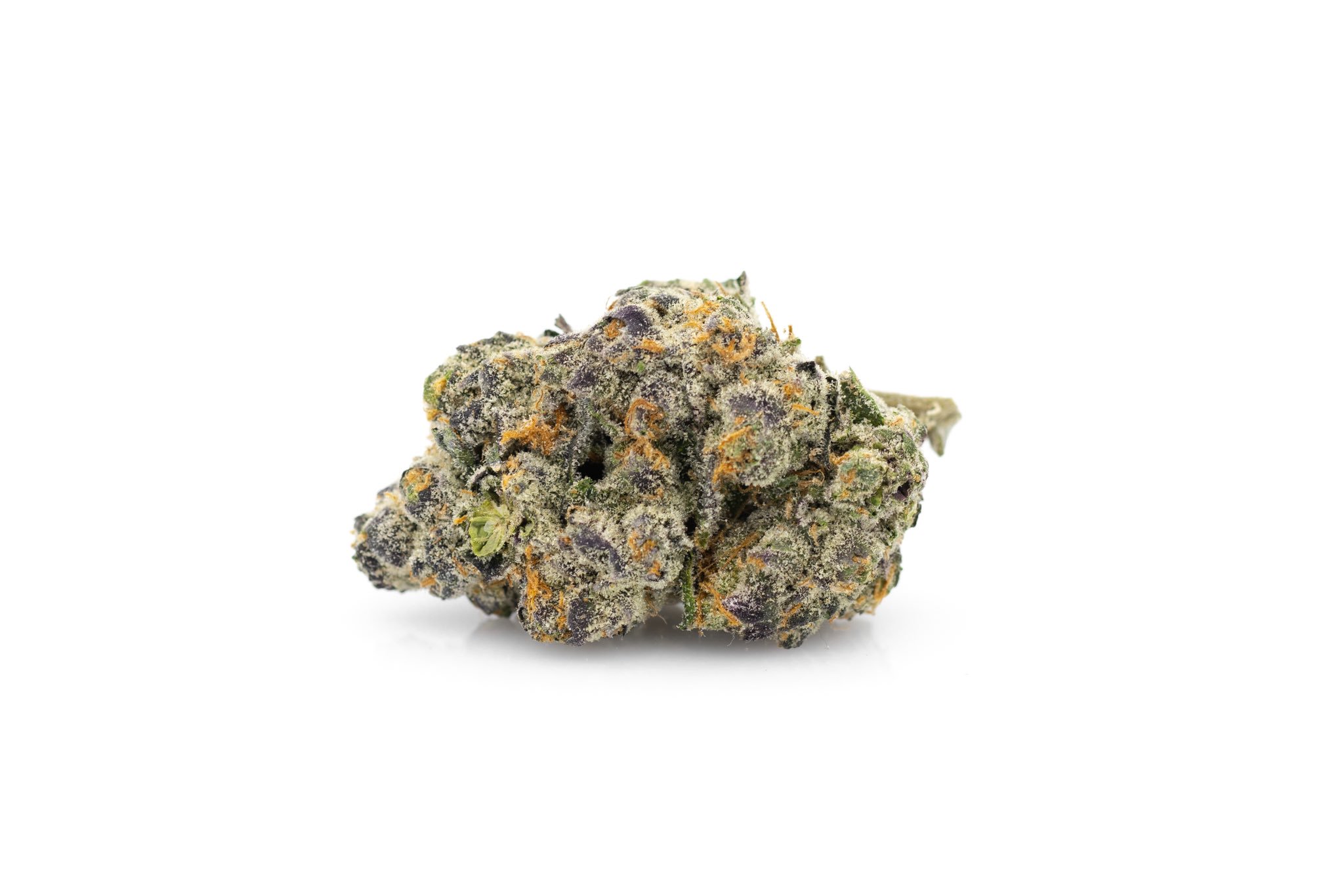 BLUEBERRY CRUFFIN STRAIN INFO:
indica dominant hybrid strain
70% indica / 30% sativa
THC percentage 22% – 26%
CBD 1%
blueberry cruffin strain
Blueberry Cruffin is an indica-dominant hybrid marijuana strain (70 percent Indica/30 percent Sativa) with a high THC content and a low CBD content. If you've never tried blueberry cruffin strain, you should. Its aroma is just as flavorful, with hints of herbs and earth. Once the high kicks in, you know this one will keep you feeling good for hours with hazy heady overtones that are nothing short of delightful. This is our preferred session strain. Excellent for hanging out with friends, smoking on the couch, or watching Netflix.
BLUEBERRY CRUFFIN STRAIN GENETICS:
Cannatique Farms developed a dominant hybrid strain by crossing Blue Cookies, DJ Short Blueberry, and Platinum weed strains.
Blue Cookies x Blueberry strain x Platinum strains


APPEARENCE:

Flower buds are fluffy, dense, grape-shaped, dark forest green, with deep purple sugar leaves. The orange hairs and a layer of white trichomes crystal resin cover these medium-sized nugs with blue undertones.

TASTE:

The sweetness of fresh blueberries is prominent without being overpowering. The herbaceous undertones give it a tart quality, while the earthy undertones anchor it to a more edgy pot strain profile. Overall, tags blueberry cruffin weed strain is crisp and refreshing, with plenty of blueberry muffin.

SMELL:

Its aroma is composed of earthy, woodsy notes with sweet and fruit undertones that provide an uplifting sensation.

BLUEBERRY CRUFFIN STRAIN EFFECTS:

A mind-numbing indica that is ideal for unwinding at home after a long, hard day. Instead of all that heavy thinking, your job will soon feel as light as air—definitely not recommended before or during any heavy lifting! A nice nightcap to finish the evening with ice cream and Netflix. Dry eyes and mouth are both undesirable side effects, so have some eye drops and drinks on hand.

MEDICAL BENEFITS:

This product also has chronic pain relief properties, which will be useful for those who consume it at night before falling back asleep with their partner! But be careful: too much of this may cause couchlock, so don't overdo it! These are only suggestions and should not be used in place of professional medical advice.

MEDICAL CONDITIONS:

Chronic Stress
Pain Relief
Appetite Loss
Fatigue


blueberry cruffin strain

BLUEBERRY CRUFFIN STRAIN GROW INFO:

Cannabis seeds can be grown both indoors and outdoors, with an 8- to 9-week flowering period and an outdoor harvest time of mid-October. Marijuana grown indoors yields twelve ounces per square meter, while marijuana grown outdoors yields thirteen ounces per plant. We recommend growing blueberry cruffin by cannatique seeds in warm and humid climates, with frequent pruning.